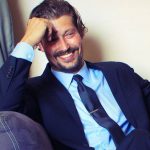 Drew serves as President of The Clergy Project.
In many ways, my story is as stereotypical American evangelical as it gets. Complete with altar calls, Bible camps, and purity rallies. Or at least it starts off that way.
I was raised in a small Baptist church in small-town Central Minnesota. Prayed the "Sinner's Prayer" when I was just three years old. Somehow spontaneously finding ourselves in the bathroom, I prayed that prayer with my mother, kneeling over the bathtub's edge and repeating her words as my own, confessing my preschool-age sins while asking Jesus to come into my life and grant me the forgiveness I was told I had so desperately needed. From there it was a childhood of Sunday schools and AWANA programs, of youth groups and Bible studies.
I was born in 1942, the third of four children.  As I grew up, I was loved by my parents, family, people in the Conservative Baptist church, and, I thought, by God.  I had severe migraine headaches from childhood unable to play like other children, or do sports, because of physical collapse. The migraines continued weekly, or more, into late adulthood.  My father, older sister and younger brother were sports stars in school.  I read a lot, played as I could and was generally happy, but isolated.