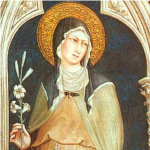 I was a "craddle" Catholic.  My mother was divorced and not allowed to go to Mass, but she sent all seven of her children to Mass on Sunday and to Catholic schools.  I never understood that but I think going to Mass was the trade off for being allowed to attend Catholic schools which my mother thought were superior to the public schools. Sometime around 3rd grade I was apparently telling relatives that I was going to be a nun.This is what I did the summer I graduated from my Catholic, all-girls high school.
I was at the end of an ever-fraying rope when I wandered into a southern California church. Sick of who I was, and how I was living, I sat down on a pew and nervously awaited what I hoped would be a divine intervention (I sure as heck needed one). Years of drug and alcohol abuse had left me desperate for a fresh start and a new way to "be." One hour and fifteen minutes later, I found exactly what I had been looking for (funny how that works). A faithful congregant led me in the "sinners prayer," gave me a brand new cellophane-wrapped bible, and sent me on my way with the belief that God had created me, sent his son to die for me, and had a wonderful plan for my life.
I ate it up and drank it in. I needed it.