I grew up in the Assemblies of God denomination and, in my twenties, became a licensed minister with the Church of the Nazarene for nearly a decade. I received undergraduate and graduate Religion degrees from Nazarene colleges. After graduate school, I worked on the mission field in Africa assisting with church planting among remote tribes and with work focused on conversion of Muslims to Christianity. But the hypocrisy, dishonesty, naiveté, and general lack of compassion of many missionaries caused me to begin doubting the point of missionary work. After three years of work overseas, I decided to return stateside and I knew I wouldn't be continuing in the ministry.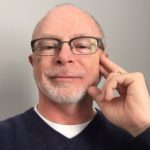 My religious life began in a Southern Baptist Church in Erwin, TN, a small town of five-thousand or so. My family left this church and began attending a Presbyterian Church when I was twelve years old when my brother and I came home after church to inform my parents that all Catholics were bound for hell.
I became very involved in spiritual activity during the time of the "Jesus Movement." From there I went to Asbury College in Wilmore, KY and acquired a degree in Religion and then went on to Asbury Theological Seminary. I decided not to follow the typical course into pastoral ministry and opted for a specialized curriculum in historical theology. My focus was on Eastern Orthodox history and theology.