Chris serves on TCP's Communications Committee. 
Raised in the Presbyterian Church near Seattle, WA, singing in choirs and being a youth group leader, it seemed natural for me to end up a pastor (especially since I was born on Christmas!). High school gave me wonderful mixed flavors of Jesus Juice (Baptist, Presby, Campus Crusade, Pentecostal) with endless Bible studies, prayer and praise. At (conservative Methodist) Seattle Pacific University I pursued Biblical studies but was most drawn to Philosophy. My mind was finally being challenged to reflect on my faith among many faiths. I was fascinated by World Religions and read all I could of the scriptures of the world: the Tao, Vedas, Gita, Dhammapada, Qur'an, Analects of Confucius and more. My faith grew to be less exclusive and more curious—unafraid of questions. I hung out at a hip house church led by a "Messianic Jew," played foosball with Muslim students and had "unchurched" friends. My world was expanding and evolving quickly.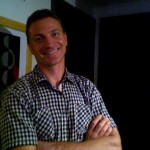 I was known at the time as Brahmachari Scott. For 14 years, I was ordained a monk of Self-Realization Fellowship Monastic Order, a religious organization founded in the U.S. in 1920 by Paramahansa Yogananda, the acclaimed Yogi who wrote Autobiography of a Yogi and was the first Indian-Swami to permanently make his home in the West.
Mom raised me Roman Catholic. I attended weekly Catechism classes and masses. By age 16, I rejected church doctrine as nonsensical. I stopped attending and believing, became indifferent towards organized religion. What I had been taught to believe about the supernatural as a Catholic ‒ about God, Jesus, and the saints ‒ only slept for a few years. Then later my beliefs were dramatically reawakened when I discovered Eastern religion and meditation.